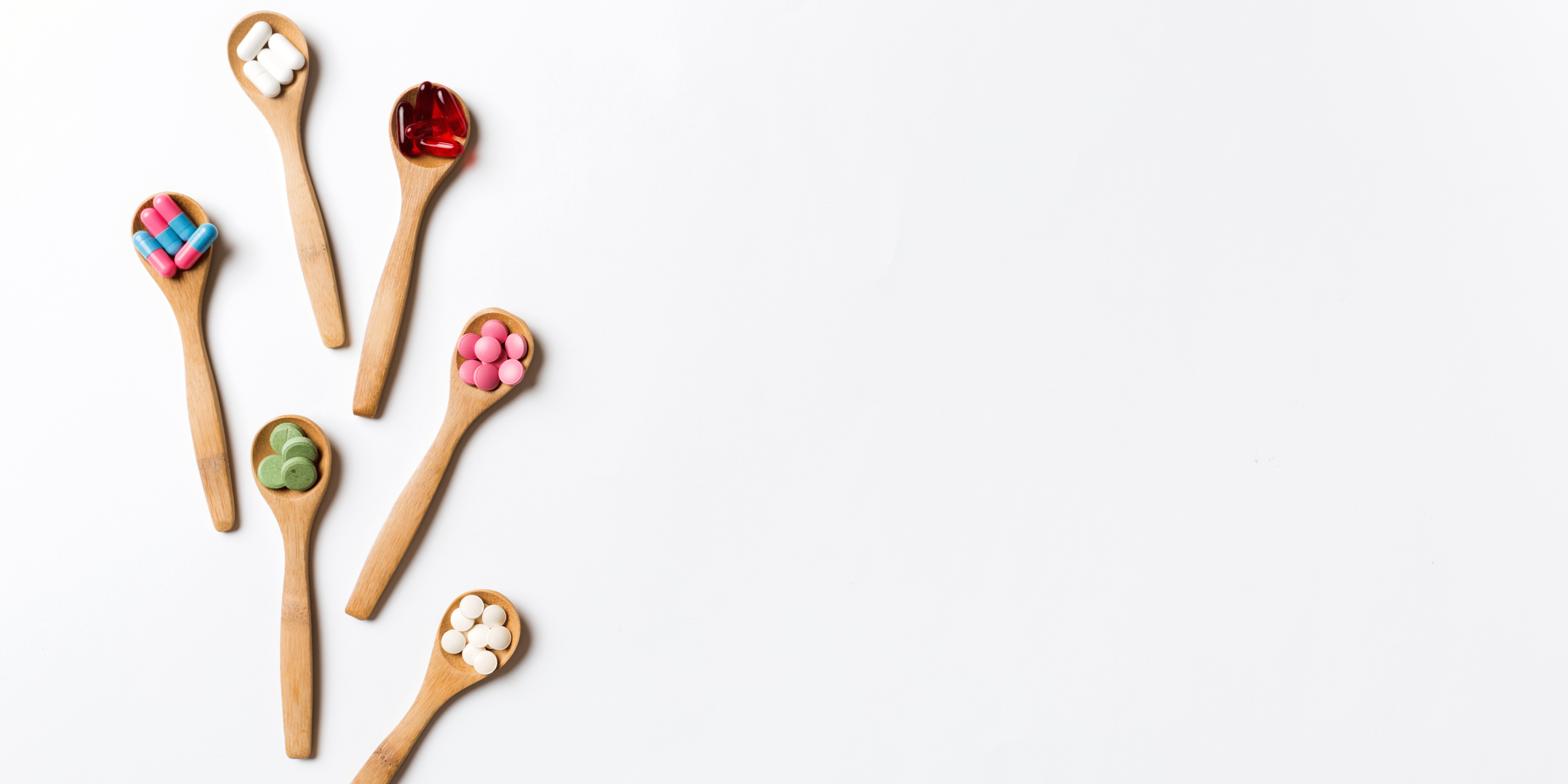 As a kid I took a fat, vaguely dinosaur-shaped multivitamin every morning. I remember climbing onto the elementary school bus with a multivitamin securely tucked between my gum and cheek, where it would stay–slowly disintegrating–until I spit it out at school or quickly chomped it down before greeting friends.
Now I know my mom meant well, but that daily multivitamin was my least favorite part about getting ready for school, well, that and brushing my hair, but that's a different story.
As an adult, my attitude about vitamins has changed drastically. After a particularly persuasive nutrition class in college, I've paid more attention to what vitamins I consume and how much I need in my diet. This curiosity has led me to look back into multivitamins.
Now I wonder, is a multivitamin the way to go? Or are there better options out there now?
Looking online, you'll find a plethora of information about multivitamins and their counterpart: single-ingredient supplements. There are arguments both for and against each type of pill. After sifting through many, many different opinions and facts, I've concluded that multivitamins and single-ingredient vitamins can both be helpful, depending on your unique situation and lifestyle.
Let's look at the pros of either choice to find the right option for your specific needs.
Multivitamins
Fills nutrient gaps: One of the biggest pros of multivitamins is that they can fill in the gaps of our vitamin needs. Here in the US, we usually don't have large vitamin deficiencies. But also, we don't always get the baseline of vitamins and minerals that we need. This is due to unhealthy eating habits, lifestyle choices, processed foods, or the availability of healthy convenient food. Multivitamins ensure you get at least the minimum of some of those hard-to-find nutrients.
Easy to use: Most multivitamins are taken once or twice a day—and then never thought of again (much like my dinosaur-shaped pills). Unlike single-ingredient vitamins and supplements, you don't have to carry around a pill packer, or take multiple capsules a day. This makes multivitamins an easy choice for those who don't have the time, or energy, to find single-ingredient supplements.
Cost effective and safe: Most multivitamins are inexpensive, which makes them an easy choice when faced with a lot of competing products. And, because multivitamins carry a multitude of ingredients, there is little chance of an overdose of any substance. But a note of caution, because of their mix of ingredients, multivitamins are more likely to be cross contaminated (although that is rare).
Great for pregnancy: All pregnant women are encouraged to take prenatal vitamins to help their body, and the body of their growing baby. If moms don't take a prenatal pill, the baby will take nutrients from their body in other ways, which may not be fun for mom. For example, my grandma never took a prenatal pill and had six healthy pregnancies—but lost most of her hair and teeth along the way.
Single-Ingredient Vitamins and Supplements
Target specific needs: One of the greatest pros of single ingredient supplements is that they can target specific needs. Some supplements specifically help with gall bladder issues, menopause symptoms, or diabetes. Taking a general multivitamin, even if they are gender specific, cannot target niche needs or chronic diseases and illnesses.
Larger doses of specific ingredients: Because there is only one ingredient in these supplements, your body gets a larger dosage. The more an ingredient is diluted, the less potent it becomes, so having a larger dose means supplements are more effective. This also means that you can mix and match your supplements to get exactly what you need, with the right dosage.
Specific ingredients give specific feedback: If you are taking a single supplement and you have a reaction to it, it's easy to know what hurt you. This can make allergies and intolerances easier to figure out and understand. If you react to a multivitamin, there could be many different ingredients that could be the culprit, and it may be hard to isolate it.
Quicker absorbability: Single-ingredient vitamins and supplements also have the added benefit of higher bioavailability. This means that they are absorbed into the bloodstream quickly and can start to act in the body faster.
Simple, clear ingredients. Unlike multivitamins, there is only one ingredient in single-ingredient supplements (duh). But this means that you have a better idea of what you are putting into your body. Many multivitamins use additives and fillers or could have unfamiliar ingredients. With a single ingredient supplement, you know exactly what you are taking. Just be sure to read the label, because some companies try to hide additives and fillers in their single-ingredient supplements too. (We don't though! Check out our list of single-ingredient supplements.)
Summary
After this assessment, while I think multivitamins can be helpful in many situations, I find myself partial to single-ingredient supplements and vitamins. But that could change if I was pregnant or not able to get healthy food in my diet.
As I mentioned earlier, multivitamins and single-ingredient supplements and vitamins are both helpful, depending on one's situation. And as you get more familiar with each, you can create a personalized plan with your doctor and discover what's best for you.
Let us know in the comments below if you are team multivitamin or team single-ingredient vitamin!