Trend Alert: 80s Fitness Revival 
Turn on MTV, dust off your Jane Fonda VHS tapes, and stretch out your leotards because the 80s are back and fitness is once again, rad! This old-school trend aims to make fitness sweat-inducing, vibrant, and fun.  
History often repeats itself, and this is one of the few times I am incredibly happy it does. With the steady rise of neon prints, synth pop, and voluminous perms, this fitness trend could not be a more natural progression. 
Who is this for? 
This trend is for unmotivated exercisers, friend groups, and nostalgia-lovers. The best part is—it requires little to prep participate.  
Here are the steps you can take to hop on this trend: 
Update your fitness wardrobe

 
This author is a proud member of Generation Z. Thus, I do not pretend to know everything about 80s fashion. Though, I am aware that the current view of 80s fashion is often exaggerated by the media.  
However, exaggeration is what makes this trend so camp and lively. Can we, as a society, pretend? Dress-up, if even for a while.  
With that disclaimer, I have one word—spandex. An 80s workout fit is stretchy, colorful, and oftentimes impractical. Think fabulous and over-the-top.  
Do you need to wear a leotard over a pair of leggings? No.  
Is it a look? 100%. You bet it is. 
So here are recommendations to elevate your 80s workout: 
Leotards

 

Headbands

 

Animal Print

 

Sweat suits

 

Windbreakers

 
Legwarmers

 

Fanny packs

 

Chunky Tennis Shoes

 
And bonus points if you commit to a perm.  
**Legally, I do not claim any damages related to impulsive perming. That is on you, dear reader.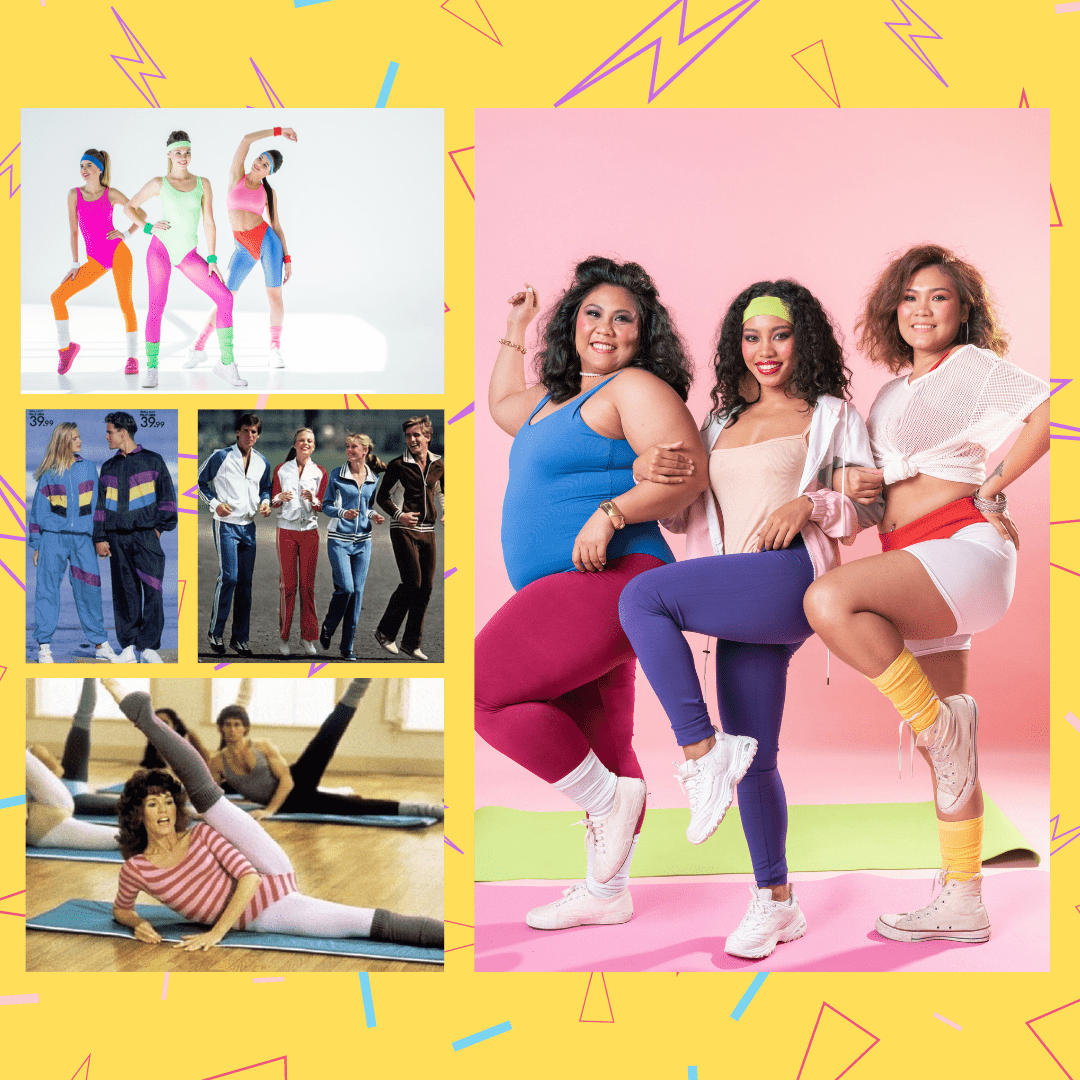 Find an 80s playlist

 
Sweat to Survivor! Move to Madonna! Jazzercize to Janet Jackson!  
You cannot channel the 80s without a gnarly 80s playlist. Packed with electric synths and power guitar, there is nothing more adrenalizing than 80s pop/rock.  
Most apps like Spotify and Apple Music have premade playlists, but you can customize yours to include your favorite songs (for variety's sake).  
Tubular Equipment

 
If you want an effective work out, you need the best equipment. From Jane Fonda's love for exercise balls to Richard Simmons' enthusiasm for jump ropes, 80s exercise equipment is minimal and varied.  
Find whatever you need to fit your specific 80s exercises. This does not always include big machinery. If you are preparing for workouts that are more aerobic, you will require less equipment and prep.  
Follow Fitness Influencers and Youtubers

 
Lastly, find instructors to follow and people to groove with. Call a few friends, dress up, and then surf the web. Search YouTube to find ridiculous 80s exercise videos–both new and old. Once you find your favorites, compile them into a playlist!  
And, of course, enjoy yourself and have fun! 
Here are a few fabulous videos to get you started: 
http://80s Hits Dance Fitness Workout | 20 minutes | SO MUCH FUN
http://80s HH-The FASTEST, SWEATIEST, CHEESIEST WORKOUT EVER.
http://Retro 80s aerobics – high impact 25 minutes – Solid Gold Fitness – YouTube
Bonus video from the OG queen of 80s cardio herself: http://Jane Fonda's Original Workout: Follow Along With Classic Step Aerobics | Tonic
Stop everything you are doing and get grooving now. This trend is just that, a trend, and there is no telling when it will be deemed "lame." Though, who cares if you start late? To me, this trend is fun, and fun will never go out of style.  
So, let us buy a plethora of neon leggings, sweat ourselves silly, and laugh at how funny we look, just because we can. Burn calories and look righteous doing it!